We are pleased to share these highlights from our first 71 years. If you would like more information about our past concert seasons, please contact the Rochester Oratorio Society office at 585.473.2234 or info@rossings-org.lyricalstaging.com.
Our History 
Historic Recordings Recovered!
Our good friends at The Bop Shop recently discovered some pristine 78's of historic performances by the Rochester Oratorio Society under their founding director, Theodore Hollenbach. We're delighted to offer those here for the first time.  They are, as follows:  "Alleluia", Randall Thompson; "The Beatitudes", Katherine Danforth Fisher; "Motet Op. 29, No. 2 – Psalm 51", Johannes Brahms.
"Alleluia", Randall Thompson
Motet Op 29 No. 2 – Psalm 51 (part 2)
"The Beatitudes", Katherine Danforth Fisher
Motet Op. 29 No. 2 Psalm 51 (part 1)
"The Beatitudes", Katherine Danforth Fisher (part 1)
2017-2018
Season
Concert I: A Splendid Grandeur:
Amy Beach's Grand Mass in E-Flat
October 20, 2017, 7:30 P.M.
Hochstein Performance Hall
with guest ensemble Concentus, Gwendolyn Gassler, Director
Amy Beach (1867-1944) Grand Mass in E-flat, Op. 5 (1891)
Concert II: A City Sings for the Season
Sunday, December 3, 2017, 3:00 P.M.
Stardust Ballroom
Guest ensembles
Handel from Judas Maccabaeus, Hallelujah, amen
from Judas Maccabaeus, Sing unto God
Arnesen Cradle Hymn
arr. Huff I'll Be Home for Christmas
arr. Weir Winter Wonderland
Sung by Resonanz
Concert III: Handel's Oratorio Judas Maccabaeus
Sunday, December 10, 2017, 3:00 P.M.
Hochstein Performance Hall
G. F. Handel Judas Maccabaeus
Concert IV: Frederick Douglass at 200
Friday, February 16, 2018, 7:30 P.M.
With School of the Arts Concert Choir, John Gabriele, Director
Hochstein Performance Hall
Mechem Choruses from "Songs of the Slave"
Selections by SOTA choir TBA
McClure The Emancipation Oratorio
Dobrogosz Farther Down Mighty River, from "Gospels"
Lord, I'm Free, from "Gospels"
Concert V: Cathedral Classics by Request
Friday, April 20, 2018, 7:30 P.M.
Asbury First United Methodist Church
Judith Prenzlow, Mezzo-soprano
Eric Kesler, Baritone
Soloists from the East High School Choir, Jodi Zajkowski, director
Mozart Regina coeli, KV 276
Górecki Totus Tuus
Vierne Solemn Mass
Duruflé Requiem, Op. 9
ROS also hosted the Rochester International Vocal Competition on April 28, 2018 at Temple B'rith Kodesh.
2016-2017 Season
ROS started the 2016-2017 season with the concert "Power, Grace and Glory" on October 28, 2016. Three masterworks made for a brilliant evening: Leonard Bernstein's Chichester Psalsm, J.S. Bach's Gloria from the Mass in B Minor and Mozart's Concerto for Flute and Harp.
On December 4, 2016 ROS continued its tradition of performing a holiday concert "A City Sings for the Season". The concert included the Hochstein Youth Singers (Director, Maryellen Giese, a member of ROS); ROCMusic Collaborative, The Mount Vernon Missionary Baptist Male Chorus and the Andrae Dunwoody Dancert.
On December 10 and 11, 2016, ROS performed Handel's "Messiah" with the Rochester Philharmonic Orchestra.
March 24, 2017 was our "Poetry for Peace" concert, a powerful commemoration of the centennial of the U.S. entry into World War I. English composer Ralph Vaughan Williams "Dona Nobis Pacem". ROS also performed Lili Boulanger's "Psalm XXIV" and ROS keyboard collaborator, Kevin Nitsch was the soloist for Ernest Bloch's Concerto grosso No. 1. Frank James Staneck's choral benediction, poetry by Ursula Vaughan Willaims closed the program.
Our spring concert, "American Voices" was on May 12, 2017 in collaboration with Rochester School of the Arts Concert Choir. Aaron Copeland's "Four Motets", Stephen Paulus "Pilgrim's Hymn", Ola Gjeilo's "Evening Prayer", Amy Beach's "Credo from Mass in E flat (Elena O'Connor, soloist) were included in this concert. ROS welcomed the School of the Arts Concert choir as featured guests.
ROS also hosted Rochester International Vocal Competition.  Details of that to be found on the ROS site.
This season we celebrated our 70th Anniversary with many special performances and celebratory events.  In October, our first production of the season was Mendelssohn's Elijah held at Hochstein Performance Hall. During the  preceding the performance, there was a series of enriching lectures in collaboration with the University of Rochester Humanities Center on the life and times of Mendelssohn and Biblical, historical and musicological information about the oratorio.
In November, we held a "Throwback to the 70's Dance Party and Fundraiser", held at ARTISANworks, with guests arriving in 70's costumes and entertainment provided by our Resonanz Ensemble – lots of fun and a financial success!
In December, our Resonanz Ensemble Plus presented a free holiday concert for the community in the newly renovated Sibley Building Atrium. Also in December, ROS joined as guests of the RPO in the live concert presentation of the movie, "Home Alone" on stage at Kodak Hall, Eastman Theatre.
In honorof our 70th Anniversary we held a successful $10,000 Matching Funds Campaign on Facebook and exceeded its goal!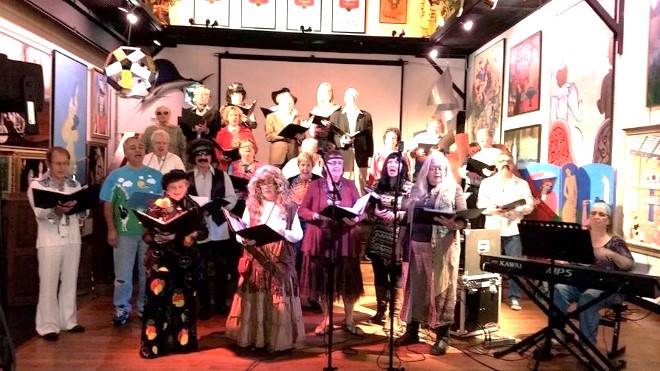 In March we celebrated our 70th Anniversary in Concert at Hochstein Performance Hall celebrating seven decades of success with some of our favorite music by Rutter, Haydn, Mozart, Lauridsen and others, with brilliant brass accompaniment. Joining Artistic Director, Eric Townell, on stage were Roger Wilhelm, ROS Director Emeritus, and Gwen Gassler, former chorus member and Assistant Conductor. Many alumni returned to join the chorus on stage for a special portion of the program, and several other alumnae added their support as audience members.
In April, we held our 10th Annual Rochester International Vocal Competition and Fundraiser, held at Temple B'rith Kodesh.
In June we once again joined the RPO at Kodak Hall, Eastman Theatre, for their season finale, including performance of Borodin's Polovtsian Dances & Ravel's Daphnis and Chloe, with Ward Stare conducting.  We ended our 70th Anniversary celebrations with a Gala Dinner at the Rochester Club Ballroom.
2014-2015 Season
This season ROS had two of its own productions held at Hochstein Performance Hall: in October Haydn's Lord Nelson Mass, and in March  the Brahm's Requiem, which was a collaboration with Houghton College Choir including performances both in Rochester and at the Houghton College Campus.  In December, ROS Resonanz Ensemble participated in a free holiday concert for the community in the newly reopened Sibley Building Atrium.
We were invited to perform with the Rochester Philharmonic Orchestra in four concerts this season:  in December Handel's Messiah; in January, Lawrence Siegel's Kaddish, in honor of the 70th Anniversary of the liberation of WWII concentration camps; in February, a concert version of Verdi's La Traviata, conducted by RPO's new Music Director, Ward Stare, and featuring members of the ROS Resonanz Ensemble; and finally in June two performances of Orff's Carmina Burana.
ROS was also invited to Chautauqua for two sold-out performances of Carmina Burana in July and August joining a cast of over 500 on stage.
The Rochester International Vocal Competition continues to grow and be an important part of the Rochester cultural scene.
ROS Resonanz, our community outreach ensemble, successfully performed in fourteen special events.
2013-2014 Season
Our season started early in July performing as guests of the Rochester Philharmonic Orchestra in a Celebrate America concert at CMAC in Canandaigua.   Also in July we traveled to Chautauqua for a repeat performance of our world premiere of Glenn McClure's Emancipation Oratorio; in January we were again guests of the Rochester Philharmonic Orchestra performing Boulanger's Psalm 130 and Beethoven's 9th Symphony, Ode to Joy; ROS had two of its own productions this season: in October we collaborated with Houghton College Choir in performances of the Mozart Requiem both in Rochester and at Houghton College Campus; in March we collaborated with the SUNY Brockport Sankofa African Dance and Drum Ensemble with with music of Ramirez, Haagen, Thomas and more, performances both in Rochester and SUNY Brockport Campus;  in May we performed at Asbury First United Methodist Church as a pre-tour concert including works by Monteverdi, Gorecki, Poulenc, and Tyzik's Psalm 150, commissioned and premiered by ROS on the occasion of our 60th Anniversary; with guest performance by the Rochester School of the Arts.
The season ended with a two-week concert tour to Eastern Europe, accompanied by guest soprano soloist Elena O'Connor and accompanist Kevin Nitsch, with performances in Kromertz, Opava and Prague, Czech Republic and Krakow Poland, sister-city of Rochester.
2012-2013 Season
The season began with ROS Men's Chorus performing with the Rochester Philharmonic Orchestra in the  concert version of "Pirates of the Caribbean".  In December we were guests of the RPO performing  Handel's Messiah with our very own Eric Townell, conducting.   ROS productions included:  in October works by Argento, Rutter, Puccini, and Handel with guest performance by the Webster Thomas High School Choir; in March a concert featuring the works by Beethoven, Mozart and Fauré.  In May, ROS performed the "Voices of Liberation" concert, premiering our commissioned work by Glenn McClure, the Emancipation Oratorio, with the composer among the orchestral ensemble.  In July, ROS traveled to
Chautauqua for a repeat performances of this work.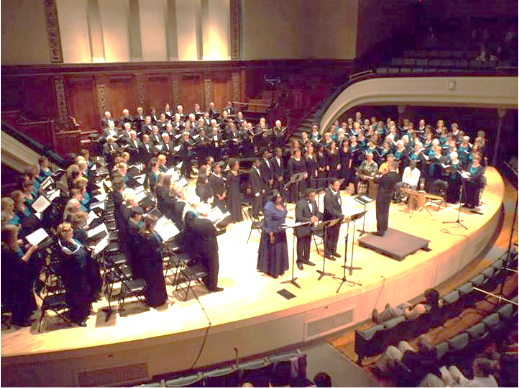 2011-2012 Season
In July, ROS performed for the first time under RPO Principal pops conductor Jeff Tyzik in Gershwin's Suite from Porgy and Bess.  ROS productions included: in October, music of Handel, Liszt, Mozart and Fountain, with guest performances by Nazareth College choir and Houghton College Choir; in December a Holiday Concert with guests including the Empire State Lyric Children's Choir and Brass Ensemble; and in March, music of Brahms, Elgar, Bliss and Bizet with guests including the BIODANCE and Antara Winds Ensemble.  In June, ROS performed a program, "Rochester Sings", celebrating the centennial of the Rochester "Friday Sings" with songs from the Rochester Songbook, published from 1898 to 1910, with guests including the Gibbs and Main String Ensemble.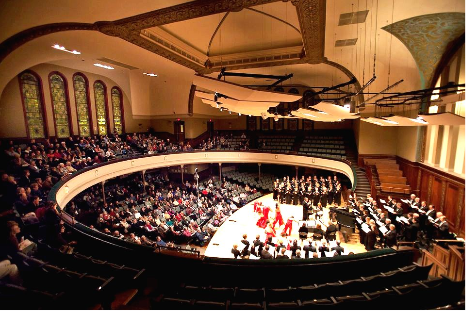 2010-2011 Season
ROS had three of its own productions this busy season: in October with music of Gabrieli, Bruckner, Mendelssohn, Beethoven and more; in March with music of Monteverdi, Handel, Gabrieli, Bach; in May ROS presented the U.S. premiere of Vaughan-William's Five Tudor Portraits in its special chamber-ensemble setting, along with the local premiere of Arthur Bliss' Pastoral: Lie Strewn the White Flocks.  ROS also was guest of the RPO in December for Handel's Messiah and invited back in May as part of the surprise farewell following Christopher Seaman's final concert as RPO Conductor.  Eric Townell lead the RPO orchestra, ROS and the audience with processional singing of "Pomp and Circumstance" with special lyrics by Peggy Savlov for the occasion.
2009-2010 Season
In September, ROS was invited as guests of the RPO to help celebrate the gala opening of the new Kodak Hall, Eastman Theatre, performing Beethoven's  9th Symphony with Christopher Seaman, conducting; in November ROS production at Hochstein Performance Hall included music Brahms, Handel, Beethoven and Handel. ROS continued collaborations with RPO: in December a Holiday Concert, Christopher Seaman, conducting, with music of Bach, Borodin, Handel, Vaughan-Williams; in February performing "Hurray for Hollywood", conducted by Jack Everly with music from Hollywood films; in May performing in the season finale of Verdi's Requiem, Christopher Seaman, conducting.
The ROS produces "Partners in Freedom" with special guests, the Morgan State University Choir of Baltimore, MD (Conductor: Eric Conway) and the Bach Children's Choir (Conductor: Karla Krogstad), soloist Dr. Jeffrey McGhee, and historian Dr. David Anderson. The event, commemorating the lives of abolitionist and statesman Frederick Douglass and of President Abraham Lincoln, features Kirke Mechem's Songs of the Slave, David Diamond's This Sacred Ground, and Nathaniel Dett's Ave Maria.

The ROS offers special programs through Rochester's public television and radio stations: May 31, 2009, the Rochester Oratorio Society performs before a studio audience for its first-ever, one-hour television broadcast. The chorus shows its versatility on WXXI-21's "Voices" series with a program of music spanning over 400 years, from Gabrieli's Jubilate Deo to Kirke Mechem's Blow ye the Trumpet and Cole Porter's Night and Day.
In December 2009, Resonanz performs a diverse selection of holiday music in its first-ever live radio broadcast on WXXI's Classical 91.5FM "Backstage Pass" hosted by Julia Figueras.
2000 – 2008
2008
ROS competes in the 9th International Cultural Festival, part of the pre-Olympic cultural events, with performances in Beijing and Shanghai, China.
Eric Townell forms Resonanz, a flexible, innovative, and high-quality choral ensemble of about 40 voices, to represent the larger chorus in fundraising and outreach settings.
2007
The Rochester Oratorio Society launches Rochester International Vocal Competition, an innovative, annual competition program for new and rising opera talent across the country.
ROS joins the RPO to perform Ralph Vaughan Williams' A Sea Symphony, Christopher Seaman conducts.
2006
ROS celebrates its 60th Anniversary and also bids farewell to its retiring leader Roger Wilhelm with the premiere of a work commissioned from composer and conductor Jeff Tyzik, Psalm 150.

The Rochester Oratorio Society welcomes Eric Townell as its new Music Director and Conductor. The first concert under Townell's direction, "Majestic Sonorities" presents music by Pablo Casals, Eric Whitacre, Emma Lou Diemer, as well as Nathaniel Dett's sublime Ave Maria and The Peacable Kingdom by Randall Thompson.
2005
ROS enjoys a music exchange with Fanshawe Chorus London of London, Ontario, Canada, with performances in both chorus' host cities.
2003
ROS welcomes guest conductor Glenn McClure and the Pan Loco Steel Band to perform McClure's composition, St. Francis in the Americas: A Caribbean Mass.
2002
The Rochester Oratorio Society is the western NY sponsor for the "The Rolling Requiem" project. Over 300 singers, representing 30 area choirs, joined with choruses around the world to perform Mozart's Requiem in memory and honor of those who perished in the September 11th, 2001 attacks.
2001
The Rochester Oratorio Society explores its silly side with a "PDQ Bach" concert, which features Oedipus Tex, Canine Cantata, and Missa Hilarius.
2000
The ROS takes a Summer Concert Tour, with performances in Rome and Florence, Italy. The program includes Vierne's Solemn Mass and works by American composers Cary Ratcliff, Howard Hanson, and Samuel Adler.
2010
The Rochester Oratorio Society sings Handel's Messiah under Christopher Seaman in his final performance of the work as music director of the Rochester Philharmonic Orchestra.
ROS also gives its first-ever performances of Handel's Dettingen Te Deum and the Bach Cantata #80.
1990 – 1999
1999
ROS performs Carl Orff's Carmina Burana at Chautauqua Institution under the direction of Uri Segal.
1996
The Rochester Oratorio Society celebrates its 50th Anniversary with a gala social event including honored guest William Warfield, and a premiere performance by the ROS of Cary Ratcliffe's Ode to Common Things.
1994
Joined by the Rochester Brass Ensemble, ROS performs Frank Tirro's American Jazz Mass.
1993
The Rochester Oratorio Society presents Rochester's premiere of Puccini's Messa di Gloria. This year, the ROS also completes a Concert Tour of the British Isles.
1992
Roger Wilhelm leads the ROS in Rochester's premiere performances of Rutter's Magnificat and Kirke Mechem's Singing is So Good a Thing.
1991
Mark Elder conducts the ROS and RPO for the premiere performance of Sir Hubert Parry's Blest Pair of Sirens.
1990
The ROS is joined by the Greece Choral Society for its Third European Concert Tour. Highlights include Haydn's Te Deum and Rutter's Requiem.
1980 – 1986
1986
The Rochester Oratorio Society welcomes Roger Wilhem as its second Music Director. He begins his first season by conducting the ROS in Haydn's Creation.
1985
ROS celebrates its 40th anniversary with Mendelssohn's Elijah.
ROS Music Director Ted Hollenbach is honored by the RPO with a performance of Berlioz's Requiem. In December of this year, he completes his tenure with ROS as he began it, with a performance of Handel's Messiah.
1983
ROS completes its second European Concert Tour. Highlights include Brahm's Requiem, performed with 150 youth singers from across Europe and 300 singers from U.S. and European choirs. Claudio Abbado, Conductor.
1981
The Rochester Oratorio Society's first European Concert Tour. Performances of Rossini's Stabat Mater at Cathédral Notre Dame de Paris, and Mozart's Requiem, in Salzburg.
1980
The ROS Women's Chorus joins the RPO under the direction of David Zinman for Mahler's Symphony No 3; contralto Maureen Forrester, soloist.
1970s
1978
David Zinman conducts the ROS and RPO in Verdi's Requiem.
1970
The Rochester Oratorio Society celebrates its 25th anniversary with performances of Beethoven's Symphony No. 9 and The Fantasy in C Minor for Piano, Chorus, and Orchestra (Choral Fantasy), Walter Hendl, Conducting.
1960s
1964
ROS presents the second U.S. performance of Benjamin Britten's War Requiem.
1963
Justino Diaz joins the ROS for a performance of Bloch's Sacred Service. Later this year he debuts with the Metropolitan Opera as Monterone in Verdi's Rigoletto, after winning the Metropolitan Opera National Council Auditions.
1961
Beethoven's Missa Solemnis was performed for the first time.
1950s
1959
The ROS joins the RPO under the baton of Pierre Monteux for a performance of Ravel's Daphnis et Chloé Suites.
1956
William Warfield and the ROS bring over 10,000 audience members to the War Memorial for Handel's Messiah.
1955
ROS singers are among 700 musicians from four choruses and a large orchestra, celebrating the re-opening of the Eastman Theatre with a production of Mahler's Symphony of a Thousand.
1954
The Berlioz Requiem is presented to sell-out crowds of 3,000 at Eastman Theatre; the performance is recorded by Columbia Records.
1952
ROS presents Christmas Story by Peter Mennin, later the president of the Juilliard School of Music.
1950
William Warfield performs with the ROS in Mendelssohn's Elijah – a role he performed with ROS on many occasions.
1940s
1948
Eric Leinsdorf conducts the Rochester Oratorio Society and Rochester Philharmonic Orchestra in Beethoven's Symphony No 9 in D Minor.
1946
Leonard Bernstein conducts the Rochester Oratorio Society in Liszt's Faust Symphony.
December 30, 1945
The Rochester Oratorio Society of the Junior Chamber of Commerce performs its first concert: Handel's Messiah, at Strong Auditorium at the University of Rochester. J. Theodore Hollenbach, Conductor.